home:::contact:::events:::reservation:::links


ARRIVING TO THE HUNGARIAN CAPITAL
---
Budapest by AIR
The largest airport of Hungary, Ferihegy, is located at a distance of 25 kilometers southeast of Budapest downtown. Budapest Airport Ferihegy is served by many international airlines, as well as many low-cost European lines.
Budapest Airport was established by the Hungarian State on 1 January 2002 as a legal successor of Légiforgalmi és Repülőtéri Igazgatóság [Aviation and Airport Directorate], simultaneously with HungaroControl pursuing air navigation activities, in order to separate air navigation and airport operation activities.
Budapest Airport handled 739,908 passengers in October 2006, an increase of 1.5% or 10,860 passengers on the same month in 2005. For the 12 months to October 2006, total passenger traffic reached 8,288 million a 6% rise over the same period in the previous year.
History
- plans and construction of Ferihegy 1 between 1939-44
- after World War II reconstruction began in 1947, airport reopened on May 7th, 1950
- the runway was extended to 3,010 metres (9,875 feet) in 1961
- the most important addition was finalized in 1985, the second runway (Rwy 13L-31R) built for the new terminal, Ferihegy 2A, is 3,706 metres (12,162 feet) long
- in 1998 the new Terminal 2B was opened
- in 2005 in an interval of 9 month Ferihegy 1 was completely reconstructed, serving now the European low-cost lines
- from 16th July 2007 Terminal 1 can be accessed by train as well from the Nyugati (Western) railway station
Budapest Airport Ferihegy - official homepage
Google map of Budapest Airport
Transport: the ways to get from the airport into the city
List of airlines banned within the European Union
---
Budapest by BOAT
The river Danube, Duna in Hungarian, plays an important role in the life of the locals and offers excellent opportunity for visitors to come to the city, to take part in a sightseeing cruise or just to spend time walking on the promenade. Our grandparents could swim in it, today a few still fish in it, others just admire its silver lazyness standing on one of the bridges.
International boat companies bring hundreds of visitors to Budapest on the river every week.

Sometimes it floods us, it makes us plan the city according to its desire. Budapest is the result of an ingenious planning that took into consideration the capricious Danube. An artificial embankment was constructed all the way along the city (28 kilometers, about 17 miles, exactly 1% of the total lenght of the river) to protect it from the floods.
MAHART Passnave Passenger Shipping Ltd - the biggest and oldest shipping company in Hungary
LEGENDA - sightseeing boats
Balaton Shipping Company - have you heard of the Hungarian Sea? You may have, it is the largest freshwater lake of Western - Central Europe and the lake with the cleanest water in Europe. Not too far from Budapest, if you plan a longer stay here, you shouldn't miss it.
---
Budapest by TRAIN
ELVIRA - internet database for train departures in Hungary in English
Hungarian Railway History Museum - a fantastic railway museum, the largest of its kind in Europe. It is an interactive museum, children and adults can also spend a great time here.
---
KELETI (Eastern) Railway Station:
Read about - Wikipedia article
---
NYUGATI (Western) Railway Station:
Read about - Wikipedia article
---
DÉLI (Southern) Railway Station:
Read about - Wikipedia article
---
DRIVING in Budapest
Might not be a good idea, unless you know the city. Huge city, ringroads with no left-turning possibilities, one way streets, thousands of cars and parking fees to be paid everywhere. If you come by car however, you should read in advance some useful information to get the most out of it. Get a good map from a Tourinform Office or invite your Hungarian friend to join you on the front seat and there you go. Make sure you keep an eye up on the buildings as well while you are driving. Impossible? Start walking then and discover the hidden treasures.

Highways:
- M1: Budapest-Győr-Hegyeshalom- Vienna
- M3: Budapest-Gyöngyös-Füzesabony
- M5: Budapest-Szeged-Röszke
- M7: Budapest-Lake Balaton-Letenye
- M8: Székesfehérvár-Rábafüzes
- M0: Budapest Ring

M1, M3, M5 and M7 are toll roads. Stickers for 4, 7, 30, 365 days are available at gas stations, pre-purchase is needed. You can pay the toll through mobile phone (T-mobil, Pannon networks) or online on the Internet newly.


IN BUDAPEST
---
METRO network of Budapest
The first underground train of Europe was the Metropolitan Railway in London. The Hungarian Millenial Underground was the first line on the European mainland. At present there are 3 working lines, the 4th is under construction.
Budapest Metro Wikipedia article about the construction, development and usage of the underground network in Budapest.
Budapest metro stations Wikipedia article with the list of the stations.
Trains that ran or still run on or under the streets of Budapest.
Millenium Underground Museum in Budapest downtown Deák square, where the junction point of the 3 lines is, in the underpass.
Urban Public Transport Museum - Szentendre
---
M1 - Millenial Underground, yellow, from downtown Vörösmarty square to Mexikói út:
History and photos in English
History in Hungarian
History in Hungarian
---
M2 - east - west line, red, from Örs Vezér square to Déli Railway Station:
---
M3 - north - south line, blue, from Kőbánya-Kispest to Újpest:
---
TRAMS of Budapest
History of Budapest tram system
Novels, short stories and poems - This is a very interesting homepage. Unfortunately it is in Hungarian only, but a very useful collection of tram stories from the Hungarian literature. No doubt, writers and poets were inspired through the more than one hundred years since the first tram started to run in Budapest by the atmosphere of a tram carriage interior, the endless parallel tracks...
Trams of Hungary
The introduction of the TW6000 in Budapest
Trams in Budapest in the 60th and 70th - watch a short film.
Tram-hiker's guide to Budapest
---
COMBINO. It needs a separate section. Watch short films, learn the story of the newest tram of Budapest running on the oldest route of the city.
Introduction of Combino in Budapest
---
TROLLEYBUSES of Budapest
The first one started to run in 1904. There are 14 lines today.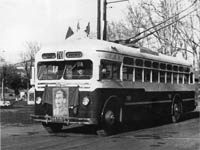 Trolleybuses - everything you ever wanted to know about the trolleybuses of Budapest in English. History, routes, useful and interesting information and much more for serious addicts.
Trolleybuses of Óbuda (Oldbuda)
The story of the MTB trolleybuses in Budapest
The story of the The ZIU-5 trolleybus in Budapest
The story of the The Budapest Transportation Company - Ikarus trolleybuses in Budapest
The story of the The Ikarus 60 trolleybuses in Budapest
The story of the IK-200 series prototype trolleybuses in Budapest
The story of theThe Ganz Electric Works - IK-280 trolleybuses in Budapest
The story of theObus - IK-280 trolleybuses in Budapest
Low-floor Ikarus trolleybuses in Budapest
Trolleybuses in Budapest - short film
---
Budapest Castle Hill Funicular
The funicular in Budapest is a very special vehicle indeed. Started to run in 1870 and was much faster than today. Distroyed during World War II, reconstructed and reopened in 1986 today it is a main attraction for visitors, offering a slow, panoramic tour up to the hill.
- length: 95 m
- maximum inclination: 48%
- height: 51 m
- capacity: 24 passengers/car
- speed: 3 m/sec
- operated by Budapest Transport Company, runs every day from 07:30 untill 22:00
- more photos about Budapest Castle Hill Funicular
- even more photos about Budapest Castle Hill Funicular
---
Another interesting vehicle on the Buda side of Budapest is the cog wheel railway. Started to run in 1874, it was reconstructed since and enlenghtened. Locals living on the Széchenyi Hill and also visitors of Budapest use it daily, the hill being the departure point of beautiful hiking routes. The carriages were made spacious enough to carry bicycles in them.
- length: 3700 m
- difference in height between the two terminus: 264 m
- capacity: 82 passengers seated, 170 standing